Ogema Public Library is Celebrating it's 50th Anniversary this year during Christmas Tree Fest! It will be held September 30th, 9:00 am – 3:00 pm. Your library will be showing off pictures and other written collections from our past that made us the library we are today. Come and join us for this wonderful event as we look forward to another 50 years and plenty more after that!
There will be many quilts on display in the library building. We will also be raffling off a 92″ x 92″ quilt made and donated by Carole Haynes.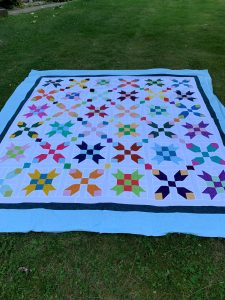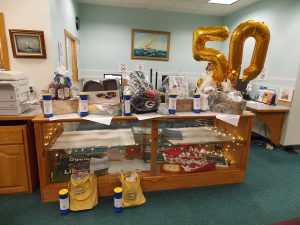 There will be nine raffle baskets :
Ogema Public Library Book Bag
Ogema Public Library Junior Book Bag
Bakeaholic Basket
Another Way to Bag your Deer Basket
Wind up & Wind Down Basket
Basket of Champions
"Lave" to Relax Basket
Christmas Cash Basket
Time to Wine Down Basket
Raffle Tickets are priced at $1 per ticket or you can get 6 tickets for $5. Drawings will be at 3:00pm.
There will be a book sale with limited number of 50th Anniversary bags made by Crazy Quilters.
There will be a Lefse/ Rosette/ Cookie Sale during the parade.
Also we will be having 300 decorated cupcakes to give away in honor of celebrating your library's 50th anniversary! Come get them while you can!